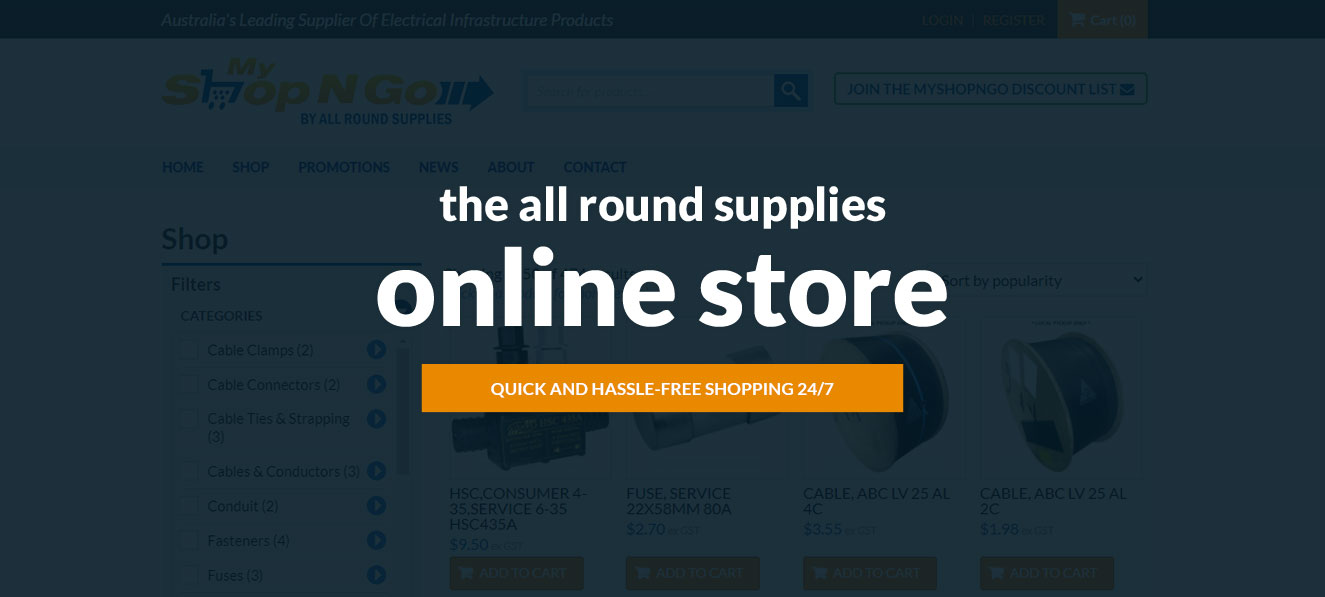 SHOPPING WITH ALL ROUND SUPPLIES
Our new site features two web stores to make it even easier for you to find and purchase the products you need for your next job. Account customers have a dedicated store catering for their specific needs, while our new MyShopNGo store features non-utility specific electrical and general products which may be needed by a contractor.
ACCOUNT CUSTOMER LOG IN
Those VIP customers who hold an account with All Round Supplies can log in with their username and password to gain access to Australia's most extensive range of utility-specific electrical infrastructure materials.
This store features advanced search tools, allowing you to find a product by its utility, manufacturer or All Round Supplies stock code. Once you have found your products, our shopping cart allows you to store and save selections for future purchase. Inquiries can also be made directly for products offered as a bulk-buy discount.
MYSHOPNGO
MyShopNGo marks a new era in online shopping for the electrical infrastructure industry. Product's from the world's leading brands are offered in pack quantities, and can be shipped anywhere in Australia. No account is required as all purchases are completed by credit or debit card.
MyShopNGo has an extensive and ever-growing range of non-utility specific electrical, safety, tooling and general hardware products, which are ideally suited for contractors working on domestic, industrial, commercial or private electrical infrastructure projects around Australia.
APPLYING FOR AN ACCOUNT
To apply for an account with All Round Supplies, customers must be a registered business, a licensed contractor in the electrical infrastructure, construction, mining, industrial or rail industries, with an anticipated spend over $20,000 p.a. with All Round Supplies.