Now available from All Round Supplies, Raychem cable clamps are the safest, most reliable and user-friendly product available.
Raychem cable clamps have a patented design which optimises clamping force at both the attachment point and the cable by securing each clamp half separately. Cables can then be aligned and located in the bottom half of the clamp prior to final tightening.
Designed for harsh environments, the cable clamps are made from self extinguishing, UV stabilised polymer materials and supplied with stainless steel hardware. Captive elastomeric inserts offer increased cable protection and containment while making installation simple.
Clamps are available in both slider plate and strut nut mounting configurations and have been designed and independently tested to meet all requirements of IEC61914.
Available in single, double and trefoil arrangements with stackable options, the Raychem cable clamps offer a unique and versatile range of options for the power supply industry.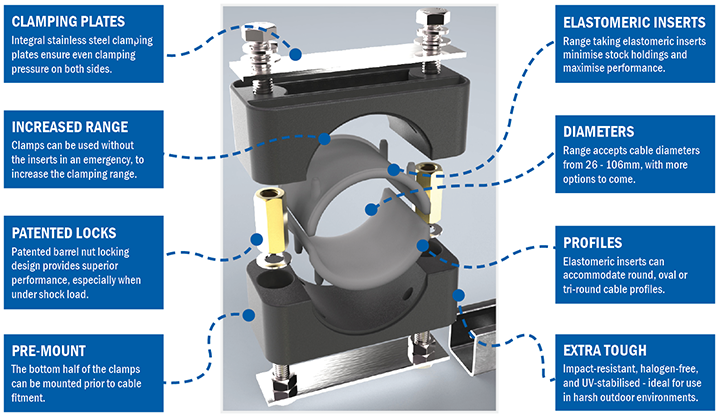 Common Applications
Depending on the cable vault, Raychem single-level cable clamps can be stacked vertically or horizontally, and can also be stacked as needed. A solution can be created for literally any application, the three most common of which are:
Switchgear terminations: where the cable must be secured as it comes up into the switchgear, both low and high-voltage.
Outdoor applications: where cables must be secured as they run up a pole or structure; in an outdoor switching yard.
Indoor applications: where any run of cable needs clamping, for example, in a cable tray or in any situation where the cable is clamped but not buried. Clamps may also be used to secure cable to floors or ceilings, such as inside a substation.
All Round Supplies stock the full range of Raychem cable clamps. For more information, read our Raychem Cable Clamp product update.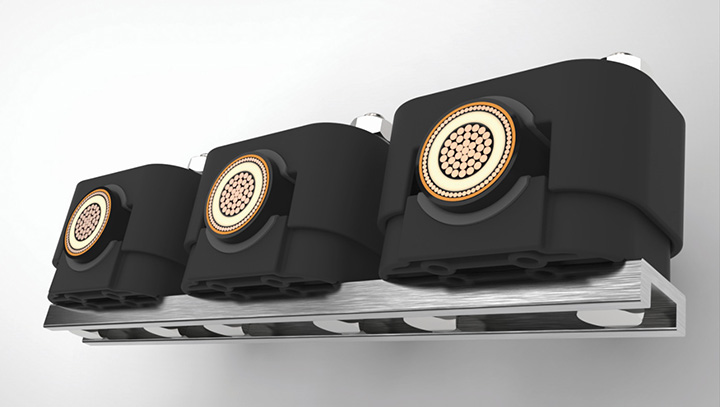 Single-level clamps in a padmount application.