When we established All Round Supplies over 20 years ago, TE Connectivity was one of the first suppliers to come on board with us. To this day they remain our most trusted and reliable connectivity partner.
Earl Palfrey, our group general manager, can't speak highly enough of TE Connectivity:
"Over the past 15 years, TE Connectivity have provided ARS valuable support and knowledge in establishing our business as a leader in the supply of electrical infrastructure materials. In particular, the highly regarded Raychem and Utilux brands have led the way in providing a relationship that has benefited both organisations."
It's a partnership that has always worked extremely well as a two-way street. Both companies share similar values at their core. "As a manufacturer we constantly strive for product quality and excellence not only in our products, but in our partnerships with our distributors and channel partners who also reflect our common goal for quality and integrity," says TE Connectivity ANZ General Manager Adam Duncan.
Who is TE Connectivity?
TE Connectivity is a global industrial technology leader creating a safer, sustainable, productive and connected future. They design and manufacture connectivity and sensor solutions for a variety of industries including ours – the energy industry.
Their products are invisible technology to everyday people, yet they're essential to keeping the lights on and the energy flowing.
The TE Connectivity brand is renowned for a high level of intelligence, efficiency and performance. Their solutions are part of the foundation that keep our networks reliable, safe and robust.

Our Connectivity Partner:
Designing, building and maintaining the country's power grid – it's an enormous and critical responsibility that falls on you. This is why you need products that will hold up even in the harshest environments.
TE Connectivity understand the daily challenges faced by those of us working in the power industry: unforgiving environments, installation accuracy, changing skills and requirements, constantly evolving technology and regulations, animal-induced outages. Will a tracked material cause a flashover – or worse, a wildfire? How will you manage the emerging trends of decarbonization, urbanization, network decentralization, digitalization?
TE Connectivity are relentlessly dedicated to product testing in their world-class labs. Their goal is to deliver you with products that have built-in reliability. You can trust their products to perform in the most extreme situations, and to protect your assets for their service lifetime.
And that's not all. Here are some other ways TE Connectivity can help you:
Reduced cost of ownership: when you invest in TE Connectivity's field-proven materials and installation training, you optimise asset life and prevent costly effects of underground failures, materials tracking, flashovers and more.
Wildlife and asset protection: TE Connectivity products protect both wildlife and your assets (therefore also maximising service continuity).
Easy, fast & safe installations: minimal components and steps make your installations intuitive, streamlined and safe.
Grid monitoring: deliver power when and where it's needed, perform predictive maintenance and monitor storage.
Grid reliability: proven service life of TE Connectivity products help you keep your network connected and the power on.
Installer and engineering support: we are always excited to share details of TE Connectivity hands-on installation training and online webinars.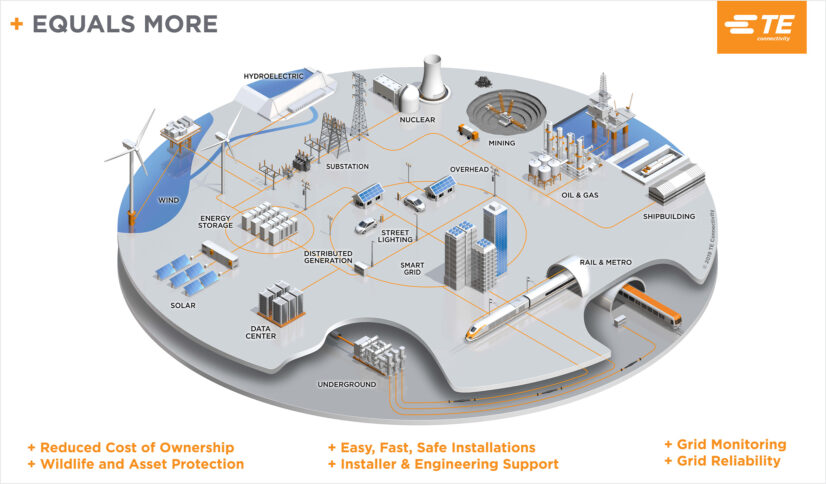 Solutions for Grid Connectivity + Reliability:
TE Connectivity's extensive portfolio help keep the backbone of your grid connected:
Cable accessories
Connectors and fittings
Insulation and protection
Metering
Installation training
TE Connectivity are the inventors of heat shrink technology, and have nearly 30 years of proven performance in cold-applied technologies. As well as their own inventions, their experience is built on the foundation of industry-leading quality brands, such as:
Raychem cable accessories
Raychem wildlife & asset protection solutions
SIMEL insulation piercing & mechanical connectors
Bowthorpe EMP surge arresters
Crompton Instruments metering
AMPACT overhead connectors
UTILUX lugs
All of these products are trusted the world over for 'install and forget' reliability.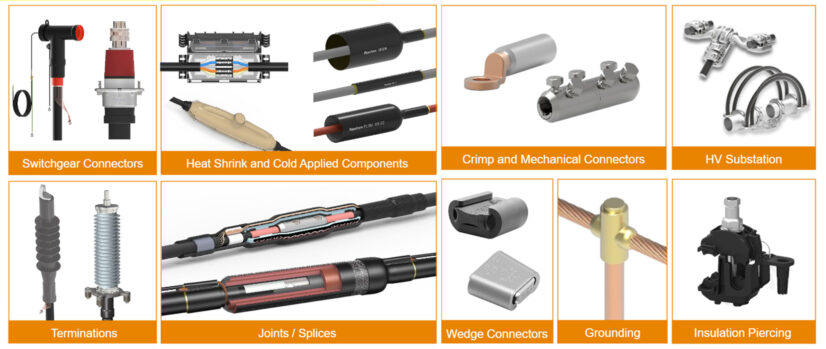 Why they're important to ARS?
As a company, we have always focused on supplying you with every single component of your job. Not just bits and pieces, but each item you need from start to finish and everything in-between – right down to the specialty tools you need to do the job.
Our excellent relationship with TE Connectivity allows us to achieve this goal. With access to their comprehensive solutions and high quality products, we can be confident that we're supplying the market with nothing but the best.